Recent Articles

The Sales Data For Cyber Monday Has Arrived
All of the talk of how things were on 'Black Friday' is now followed by the yearly quest for the Cyber Monday data. We in the online world love to see just how much the shift to online commerce continues to overtake...

How To Make Your Sales Cycle More Efficient
Last week in a webinar with a group of high-performing salespeople and technical specialists, a salesperson asked: Salesperson: "My company's number one goal is to shorten the sales cycle. How can I do that?".

Lead Nurturing Is About The Relationship Not The Sale
To be successful at lead nurturing marketers can't rely on one specific channel but rather they need to leverage a multi-modal portfolio of channels especially when you have a complex sale.

Products And Services Are Bought By People...
I am coming off the CMO Summit in San Francisco put on by the Aberdeen Group and I have a lot of questions. I come from the sales side of things and I have at...

Nurturing A Prospective Client Without Forcing
I have had a difficult week. Nothing serious, so don't move to another post or destination because I am going to bum you out with stories of woe and despair. It's been difficult from a business perspective because...


12.18.09
Effectively Increase Your PPC Campaign Performance
By Ravi Venkatesan

The complexity of Google Adwords is always on the rise and it takes time, skill and effort to achieve good results with PPC campaigns in terms of finding the sweet medium of increased conversions and reduced costs.

If you have an existing PPC campaign and it is performing decently, you can still increase its scope and hence improve its performance by targeting more keywords in the niche you are running your campaigns in.

You have to be logged into your Adwords account. The Opportunities tab in the Adwords interface is a great way to find out the keywords you are not targeting in your campaigns. The keyword ideas for each active campaign is listed and you can download them and analyze them in detail.

If your campaigns are targeted primarily to the US market, the Opportunities interface throws up keyword ideas which you can use straightaway. You can simply click the Preview button beside a campaign name and add suggested keywords straight into your live campaign.

For those outside the US, the best way to get a list of new keywords would be to click on the Keyword tools under the Tools section on the left column. Choose your location and language of choice and export the listed keywords as a CSV file and examine them manually.

You can compare them with the keywords in your existing campaign and after filtering the duplicates (along with keyword match type), you can manually add them into the relevant campaign.

A screenshot of the Keyword Tool screen is produced below.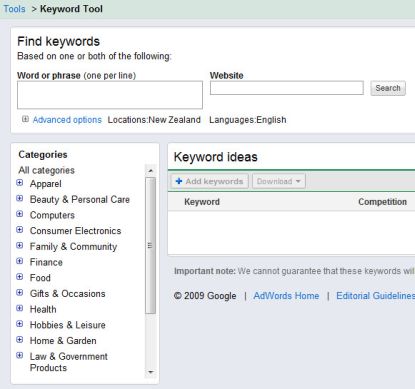 For example, if I am running a campaign for Auckland seo here in New Zealand, in the box titled Word or Phrase, I would key in auckland seo. There is an option for choosing the location and language, traffic estimation and filtering keywords using boolean operators as in





The keyword tool results for the search term auckland seo returns the following results.

Continue reading this article.